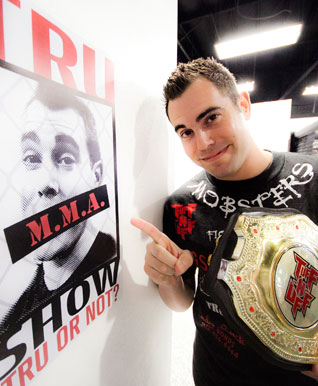 Though he is best known for his work in action sports and covering live sporting events, Aaron Tru Teweles has also spent several years producing video and photo content for corporate events, parties, weddings, business expos, infomercials, web shows, marketing materials, product reviews and more. Citing his love for creating digital content and working with new people in unique locations, Tru became a full time videographer in 2008 after graduating from CSULB.
Referred to as a "Master Marketer" by ESPN's Jay Crawford, Aaron Tru is also an "on-camera" MMA personality and marketing consultant who holds a bachelors degree in Communication Studies and a minor in Business Entrepreneurship.
Tru has been seen on ESPN, The O'Reilly Factor, The Best Damn Sports Show, multiple shows in Japan and Europe, and has even been featured on the front page of TMZ. Additionally, Tru has been featured in MMA Worldwide Magazine and has appeared as a guest on several radio shows.
Tru has covered over 100 MMA events including UFC, StrikeForce, Elite XC, and Affliction, and several other promotions in the California area. As a result, Tru has become a trusted member of the MMA community and built a rapport with promoters, sponsors, fighters and managers. Before dedicating his professional career to combat sports, Aaron Tru was a nominee for 2010 Mixed Martial Arts Journalist of the Year.