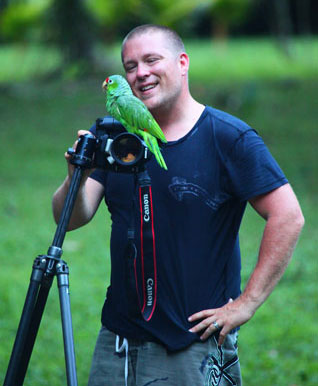 Chris Staab has been a photojournalist for nearly 15 years. When his daughter Haven was born, Chris decided to aggressively pursue his lifelong dream of becoming a photographer. He purchased his first SLR camera and began photographing every new moment in his daughter's life. Chris eventually went to work in broadcast news at KAUZ in his hometown of Wichita Falls, TX. Soon, he climbed the ladder to KOCO in Oklahoma City, and then to KOKH Fox 25. Chris spent the majority of his news career as a special projects photographer in Oklahoma City, and even worked special projects at WSVN in Miami, FL.
Chris holds several state and national awards for his photojournalism and editing including three Oklahoma Associated Press Awards, two Hawaii Associated Press Awards, four national Associated Press Awards, two Emmys and an additional Emmy nomination.
In April of 2009, Chris was asked to relocate to California to edit a network television series called MMA Worldwide. He directed and shot the final 3 episodes of the series and after the series completion, he was asked to stay in California. He was then Director of the Media Department at MMA Worldwide & TapouT Magazine, and in addition he became the Editor-In-Chief of both national publications.
Chris, his wife Nicole, and even his 18-month old son are all passionate about wildlife. Chris and Nicole are both devoted wildlife photographers. Through this common bond they decided to combine forces and create ROF Industries Inc.
Please contact Chris directly at cstaab@rofindustries.com or 323-605-1542.